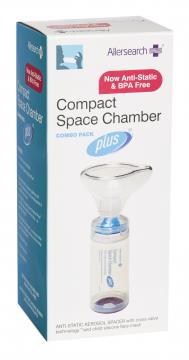 Anti-static aerosol spacer with cross valve technology and child silicone face mask.
Product explanation:
The Allersearch Compact Space Chamber plus Combopack is ideal to use for children of 4 years and under. The use of a MDI and spacer helps with the effective delivery of respiratory medication.
The Spacer Combo Pack includes an Allersearch Compact Space Chamber Plus® Anti-Static spacer with a pre-packed, soft silicone face mask. The Spacer is BPA free, dishwasher safe and easy to transport due to its compact design.
The anti-static chamber minimises particles from sticking to the inner walls of the spacer. Therefore, there is no priming required.
The soft silicone mask helps to reduce the chance of medication escaping out of the side, by providing good suction on the face.
NOTE: To be used as directed by your doctor. Replace a spacer and spacer mask every 12 months when used regularly.
 Product specifications:
Single patient use
Dishwasher safe – spacer only
1-year warranty
Easy to transport due to its compact and portable design
BPA free