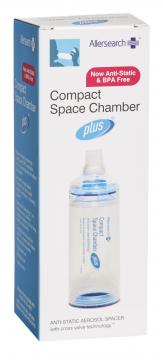 Anti-static aerosol spacer with cross valve technology.
Product explanation:
The Compact Space Chamber can be used with all standard format Metered Dose Inhalers (MDI/puffer) to assist in the effective delivery of respiratory medication.
This Allersearch spacer features the unique Cross Valve Technology™, which improves one-way air flow to prevent medication from escaping and allows exhaled breath to be released outside of the chamber.
On top, its anti-static chamber minimises particles from sticking to the inner walls of the spacer. Therefore, there is no priming required.
NOTE: To be used as directed by your doctor. Replace a spacer every 12 months when used regularly.
 Product specifications:
22mm multi-purpose mouthpiece
Single patient use
Dishwasher safe
1-year warranty
Suitable for infants to adults.
Easy to transport due to it's compact and portable design
BPA free